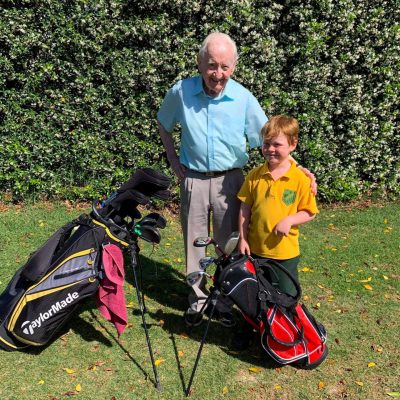 Proving golf is a sport for a lifetime, meet the two Archies!  
Archie C is one of our youngest members at just 7 years of age and Archie N, a sprightly 91 years of age, one of our oldest.
Archie C was one of the first participants in Our After School Golf Academy.  The Academy provides an introduction to golf by promoting skill development and using fun, team based games and activities.  Several of our After School Golf Academy students have represented Cammeray Golf Club in Golf NSW's Jack Newton Junior Golf competition.
Cammeray Golf Club aims to promote the sport to all in the wider community including local primary school students as they are introduced to golf as part of their PDHPE program. 
Archie N has been a member of Cammeray Golf Club since 1965 and is one of over 30 Cammeray Golf Club members in their 80's who play golf regularly.  One of the Club's most prolific players is a 91 year old who manages a staggering 250 rounds a year!  
Golf NSW's popular "Get into Golf for Seniors" program was developed to provide opportunities for seniors who may never have played before to get involved with the game, to make new friends, learn basic skills and get out into the sunshine to stay fit and healthy.  
We have introduced over 60 new players to golf through this program.  A group of 15 of our Get Into Golf graduates still get together for a game every Thursday.
If the two Archies have inspired you to lift your game, book a round today or check out how you can get into golf www.cammeraygolf.com.au/get-into-golf